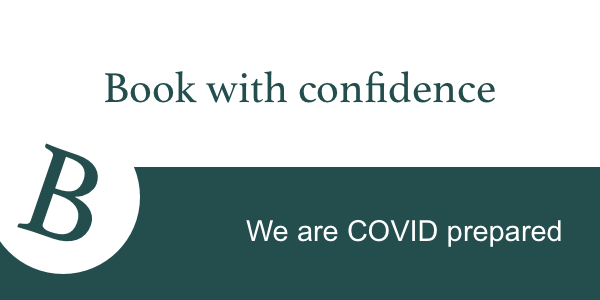 Book with confidence as our house and all rooms are sanitised and cleaned daily during your stay with us.
Thank you, we look forward to meeting you...
Discover Beautiful Chulilla
Welcome to La Casa Serena
Magical places exist
Sometimes they are only in our dreams
Sometimes in places far away
Sometimes we have the good fortune to find them within our reach
Discover Chulilla.
Make a reservation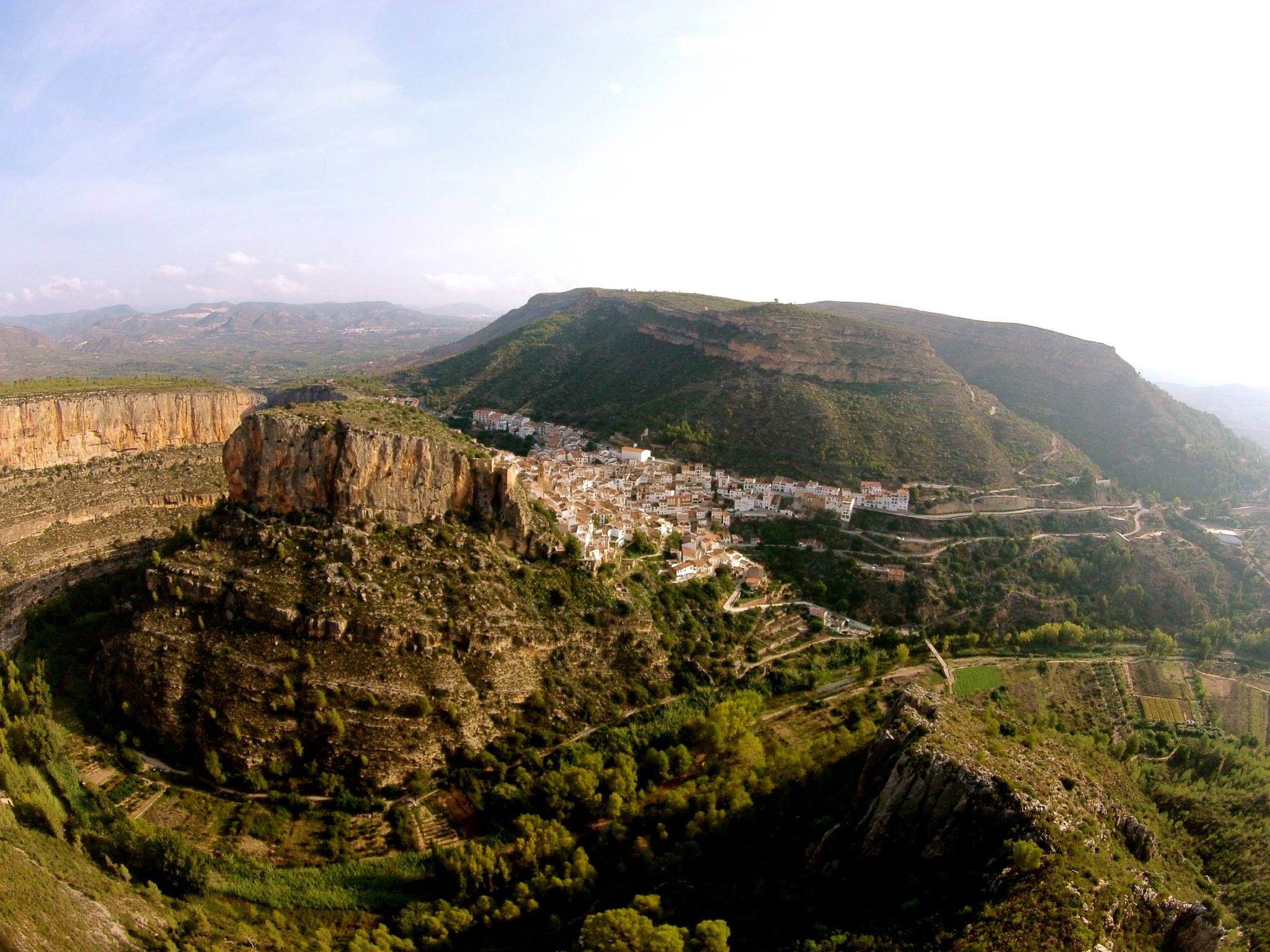 Charming La Casa Serena
We welcome you to La Casa Serena, in Chulilla. Our traditional Award Winning, adults only Spanish Guest House, offers quality accommodation at an affordable price. We are located less than one hour from Valencia City and less than 50 min from Valencia airport.
La Casa Serena is in the quietest area of the old village of beautiful Chulilla. In the Winter months our main lounge with Log Burning Fire is here for you to relax and
enjoy and a well equipped kitchen is available for your use, if you wish*.
Start your day, enjoy our delicious breakfast served to you on the terrace, overlooking the stunning views of the valley and the Turia River canyon…….just perfect.
Relax in one of our cosy bedrooms, all designed for your relaxation and rest. Our house offers 3 double rooms, 1 twin room and 1 large single room. Unwind for the night under the star lights, here you can disconnect from the noise and stresses of life. Above all, you will find relaxation and tranquillity.
Chulilla. Of all the villages within La Serrania del Turia, Chulilla is recognised as the most picturesque, crowning the entrance to the 140 metre deep canyon. The most challenging climbing routes, the highest quality gastronomy and the warmest of welcomes make Chulilla the best choice for your holiday. The winding, narrow
village pathways and the warm, friendly locals make Chulilla the ideal base from which to explore this undiscovered region.
*Small fee applies
The Stunning views of Chulilla
About La Serrania del Turia
In the mountains and highlands of the River Turia, just an hour away from the city of Valencia, lies traditional, unspoilt Spain. Natural springs feed into streams and rivers, carving labyrinth canyons through the pine-clad mountains, providing wonderful hiking or walking, fishing and secluded swimming pools. Climbers travel from across Europe to tackle the rock faces, whilst those whose interests lie in discovering ancient, historical villages, precariously perched below Moorish castles, will delight in exploring the winding streets and shady squares waiting just around the corner. CLEAR YOUR MIND REFRESH YOUR SOUL AWAKEN YOUR SENSES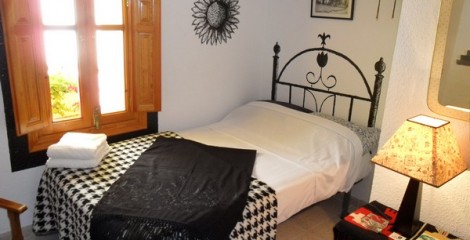 Charm of Casa Serena
Our customers can use all the facilities available at La Casa Serena: the games room with table tennis table, our comfortable lounge with Spanish & English television as well as Wifi. Relax sat next to our wood burning fire, our well equipped kitchen is also at your disposal. Enjoy our delicious breakfast served to you on the terrace, overlooking the stunning Valley and the Canyon of the River Turia.
Relax...Unwind...Refresh...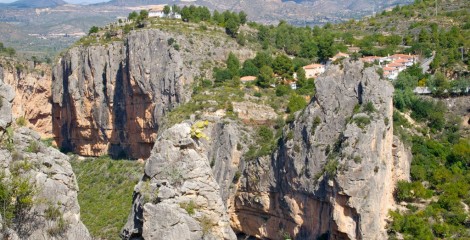 Climbing and Hiking in Chulilla
Climbing is developed on a limestone grey or sometimes Orange, almost always very compact. Technical plates and medium grade routes being varied, predominate. Routes are equipped with 12 metric parabolts. Some of the routes reach an altitude of 130 m. As privileged due to the boom of its climate and the diversity of its landscape, Chulilla acts as a Center for hiking. The network of trails in the province of Valencia, the PR76 and PR77 pass through the village. These trails run through the most beautiful areas of the region. During your tour you will alternate between spectacular cliffs, vegas, river landscapes, steep mountains and lush countryside.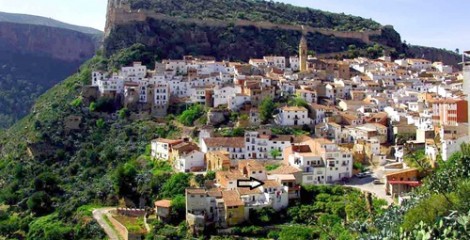 Dining in Chulilla
The village of Chulilla and its surroundings host some of the regions finest restaurants. Here you can sample tasty local dishes such as the local tapas, wild boar stew, beef pot, steaks, lamb or onion bread. Or maybe try Güeña, or Cabbage pot with beans, beets and potatoes. You will not forget its local pastries such as reguiño, congretes, butter, almond cakes or mistelas ....and do not forget the fine local wines!
Most of the restaurants are open on weekends only in the village with one or two open midweek.
Fabulous stay here!! Just what we needed!
5* stay here at La Casa Serena. The hosts were excellent - great communication throughout and recommendations for hikes and places to go for food. We had an excellent breakfast to start the day - I particularly loved the coffee! There is a lovely room downstairs where you can relax and watch tv/mats available for a mindful session of yoga. The room we had was the 'old spanish' - perfectly clean and excellent for siestas in the middle of the day as it goes so dark (always something my bf loves!). Bathroom again very clean. COVID-19 all covered - very impressed with what they have put in place to make sure we are safe!
We couldn't have been more happy with our stay in this beautiful house in the beautiful town of Chulilla - WOW. We will be back to do it all again in the winter!
Our fave place for dinner was El Poso. Just outside the square.
Sophie and Cameron
tripadvisor July 2020
Chulilla experience
Well where do I start!! Fantastic 2 nights with excellent hosts Carole & Paul at casa Serena B&B. My husband is a novice walker and really wasn't looking forward to it, I am also not a great climber but what a lovely experience we had, we had great guidance of the hosts of where to go making sure we didn't push ourselves to hard but we did the walk slowly and took in some fantastic and stunning scenery they have a lovely dog called chip and he came on the walk with us on the 1st night we went to a climbers bar and finished of by a paella on the Sunday recommend by Carole & Paul at the local pub in the square overall we had a 5 star weekend and missing it already so will definitely book again at Casa Serena
Bernadette
tripadvisor Feb 2020
Weekend break.
What a lovely location and comfortable accomodation. Ideal venue for sightseeing, climbing and hiking,of which we undertook the latter.Our hosts for our short stay were extremely knowledgeable,informative and
guidance was plentifull regarding the terrain. They were ever so polite and friendly and catered for our every need.It was such a pleasurable place to visit we intend to teturn in the near future.
George and Bernadette
tripadvisor Feb 2020